What are natural cosmetics?
Unlike so-called conventional cosmetics, natural cosmetics avoid the use of chemical ingredients. The main natural beauty tips are derived from plants. Manufacturers are also subject to different regulations, in particular in the case of certified organic products. In natural cosmetics, products are not tested on animals and contain raw materials of natural origin, often derived from cultures that are more environmentally friendly. In terms of composition, petroleum-based additives and synthetic preservatives are also excluded.
What are the ingredients mostly used in natural cosmetics?
The main natural beauty tips are derived from what nature offers us. Plants can harvest vegetable extracts rich in vitamins, minerals and essential nutrients. They can act on the skin as on the hair, depending on their properties. Natural cosmetics also use vegetable oils, harvested from the seeds of different plants. It contains essential fatty acids in good quantity. Recognized for their many virtues, essential oils are useful in cosmetics. These aromatic concentrates contain the essence of the plant and are therefore particularly powerful. The field of action of essential oils is very broad and depends on each. Vegetable butters are also among the main assets of natural beauty. Very rich in nutrients, they are extracted from the seeds of very specific plants. Shea butter and cocoa butter are the most used in cosmetics.
Soothing aloe Vera treatment
After exposure to the sun, this refreshing ointment quickly calms the heated epidermis, giving the skin suppleness and softness…
RECIPE
Place the aloe Vera gel in the palm of your hand.
Add drops of lavender essential oil.
Mix the two ingredients thoroughly.
INGREDIENTS
1 to 2 hazelnuts of aloe vera gel (aloe)
2 drops of real lavender essential oil
HOW TO USE IT?
Place a little ointment on each area of skin needing relief: face, shoulders, cleavage…
Massage lightly without pressing too hard until the mixture has penetrated.
Renew morning and evening, until the skin is completely soothed.
FRIENDLY TIPS
This mixture is prepared just before application. It does not preserve. Aloe Vera can be used fresh. Thanks to its richness in mucilage and vitamins, it has moisturizing, nourishing, refreshing, soothing and
Healing. If you have one at home, just cut a fleshy leaf and take the pulp. Failing that, it is possible to buy from organic stores. It is available as a pure gel. Ready to use, it is just as effective. Available in organic and pharmacy stores.
Aloe vera: a very soothing cactus for the skin
Still poorly known, this super-plant takes care of all skin types and all hair. In its leaves, the precious gel of aloe, which is used fresh or already conditioned, for more ease.
high in vitamins and minerals
an exceptional moisturizer!
a regenerating and doping cell
High in vitamins and minerals
Among the three hundred species of aloe, aloe Vera is one of the only ones to have cosmetic virtues. It was already used in antiquity: Cleopatra used it, with donkey's milk , for its beauty treatments! Under this exotic name hides a shrub that flourishes wherever it is hot and dry. It is its generous leaves that shelter the famous aloe gel. Lengths of 80 cm, they can reach up to 10 cm of width.
As the leaves miraculously repel, they can be cut by two or three throughout the year to collect the precious jelly. This contains no less than two hundred components, including about twenty minerals and a dozen vitamins. More than eighteen amino acids of which seven essential (not produced by the body), polysaccharides (complex sugars), enzymes and proteins. The whole assures to him of the peculiar properties, particularly cicatrizing and softening.
Read also>>>>>Health and Nutrition
Is it used pure or diluted? 
In cosmetics, pure aloe Vera gel can be used by buying it fresh on organic markets or by keeping the plant in a pot. But it is also found in tubes . It is the most economical option. On the other hand, it must be used in small quantities, because it literally sticks to the skin. If you prefer a smoother texture, choose an aloe Vera cream instead.
An exceptional moisturizer!
The plant's juice contains 85% of a water rich in minerals and vitamins, which feed the skin cells. This gives it a high moisturizing power, further enhanced by its content of poly- and mono-saccharide's. Sugars able to retain water. It is therefore present in day or night care, moisturizing creams and body milks. Studies have also shown that aloe Vera has a positive action on the barrier function of the stratum corneum. Clearly, the water remains "trapped" in the epidermis and can no longer evaporate … The  skin is therefore well hydrated for longer!
A regenerating and doping cell
Thanks to its healing qualities, aloe Vera can help to recreate skin tissue. A useful virtue to repair damaged epidermis or to maintain a healthy skin that wishes to remain young for longer! It is therefore necessary in the form of cream, fluid or serum for its anti-aging qualities. Indeed, its molecules stimulate the growth of fibroblasts. Located in the dermis, these cells produce collagen, which gives the skin a youthful appearance and rebound. By accelerating, cell renewal, aloe vera limits the appearance of wrinkles. It improves the appearance of the epidermis, which thus appears firmer and smoother on the surface.
The gel soothes the irritations:
It is enough to cut an aloe leaf so that it starts to secrete gel, which coats the wound in the manner of a repair dressing. It does the same on the skin. Homeostatic, bactericidal, anesthetic and cicatrizing, its gel works wonderfully on burns and small wounds, while alleviating pain. It contains steroids (natural hormones) and polysaccharides, which have anti-inflammatory properties.
It is found in post-sun care or softening against skin irritations. The brand has even integrated it in its new line anti-imperfections, in
order to soothe fragile skin and reduce inflammation. Because it also has a slightly exfoliating enzymatic action (it eliminates dead cells gently) and astringent (it tightens the tissues). All good for oily skin.
Repair Aloe Vera Treatments
An organic exfoliate An effective scrub with its almond shell powder, but also tender because enriched in aloe Vera soothing.
 A moisturizing day cream Twenty-four hours of hydration is possible when you combine aloe Vera with hyaluronic acid!
A revitalizing shampoo A natural formula that deploys pro-vitamin B to soften the fiber, orchid to moisturize it, plus aloe Vera to soften it.
 An SOS gel Based on pure cold pressed juice, it nourishes and hydrates, while soothing the burns, irritations and cracks. A tube to keep in his pharmacy
A gentle cleansing With these biodegradable wipes, one dares the express cleaning! Plus: the soothing aloe vera duo and revitalizing organ oil, both organic.
Coconut, a concentrate of vitamins for my skin
This fruit with a high nutritional and vitamin content has invaluable qualities in cosmetics. Appreciated for its content of fatty acids, essential for the skin, its oil is a real treasure. There are more advantage of Coconut:
 A soothing oil for the skin
Nourishing active ingredients for hair
Exfoliating virtues in pulp and bark
Hygienic washing agents
 A shower gel to do yourself
 Our selection of cuddly treatment
A soothing oil for the skin
Extracted from the fresh and still green fruit, coconut oil is non-comedogenic (it does not favor the appearance of blackheads), and has a delicious hazelnut smell. Due to its concentration of la uric acid, a saturated fatty acid, it has a high affinity with the skin.
Ultra-nourishing, anti-dehydration, it has a strong softening power. It is therefore ideal for the care of dry and damaged skin , those that are chapped or cracked, as well as epidermis rough and lacking elasticity. Thanks to its vitamin A and E content, it calms the sensations of overheating and redness , and is an ingredient of choice after-sun care.
Nourishing active ingredients for hair
The content of coconut oil in fatty acids makes it a popular product of very dry and frizzy hair. It protects, gives vigor and makes the hair fiber shine. More unusual, it is used in the composition of natural lice products, in combination with essential oils (geranium, lavender), because the oil asphyxia these parasites without damaging the hair.
What is called coconut oil (the basic ingredient of the famous monoï), obtained from dried coconut pulp, is also ultra-nourishing because it is rich in saturated fatty acids. Monoi is made by maceration of tiare flowers in refined coconut oil, the product being purified by filtration. The Polynesians traditionally coat the hair (and the body) to protect and nourish them.
Read also >>>> Causes of Hair Loss and Natural Remedies
Exfoliating virtues in pulp and bark
Coconut is the basis of choice for exfoliating treatments. For a gentle exfoliation for the face, the pulp (the white part) is dried and crushed. For a special scrub body more energetic, it is the brown bark, harder, which is pulverized
and transformed, to integrate it into an exfoliating care. By adding coconut oil, a nourishing scrub is obtained for the skin.
 Hygienic washing agents
It is because the size of the fatty acids of coconut oil allows a good solubility and a strong affinity with the skin that the labs use to make surfactants (sodium coco sulfate, an anionic surfactant Coco glucoside and coco betaine). These mild washing agents are used in most shower gels and shampoos. In tropical countries, coconut oil is also used to make soaps, because of its foaming power and its smoothness.
A gourmet perfume tinged with exoticism
Opulent and sweet, the coco note in perfumery is synonymous with gluttony. Rare are the perfumes that use it in main note, apart from the "mononotes" , who dedicated a clean fragrance. As for the fruity coconut note that evokes the holidays, it is rarely extracted from coconut oil or monoi. It is reproduced in the laboratory from a chemical molecule, aldehyde C-18, which is also found in many shower gels.
A shower gel to do yourself
2 tablespoons of
– organic coconut oil
– coconut pulp
– neutral washing base
Mix all the ingredients in a container. Wash yourself with this gel by massaging your skin in light circular movements, from bottom to top. Rinse, your toned body will feel deliciously good coco!
Our selection of cuddly treatments
Moisturizing Balm: A body cream with Malaysian coconut, organic shea butter, sweet almond and avocado oils, and organic aloe vera gel, to provide nutrition and suppleness to the skin. Malaysia coconut melting cream,
Velvet shower: Thanks to soft surfactants, derived from the mango butter that gently cleanse, coconut oil which improves the hydrolipidic film and palm tree, and this organic shower gel lava without drying.
 Organic perfume: A confusing scent, derived from coconut milk and little sweetened, where the seeds and leaves of coriander bring freshness and subtlety, as in a Thai dish! Love Coconut,
Exfoliating cream: Coconut powder (grated dry pulp), combined with sugar to gently erase the skin, while monoi and avocado oil protect and nourish.
 As in Tahiti: Polynesians use monoi to coat their bodies and hair on leaving the bath. It nourishes the skin and repairs the hair fiber by perfuming them.
 Special dry hair: Argan and coconut oils combine to treat hair (and nails), and bring them shine and suppleness. Used as a mask.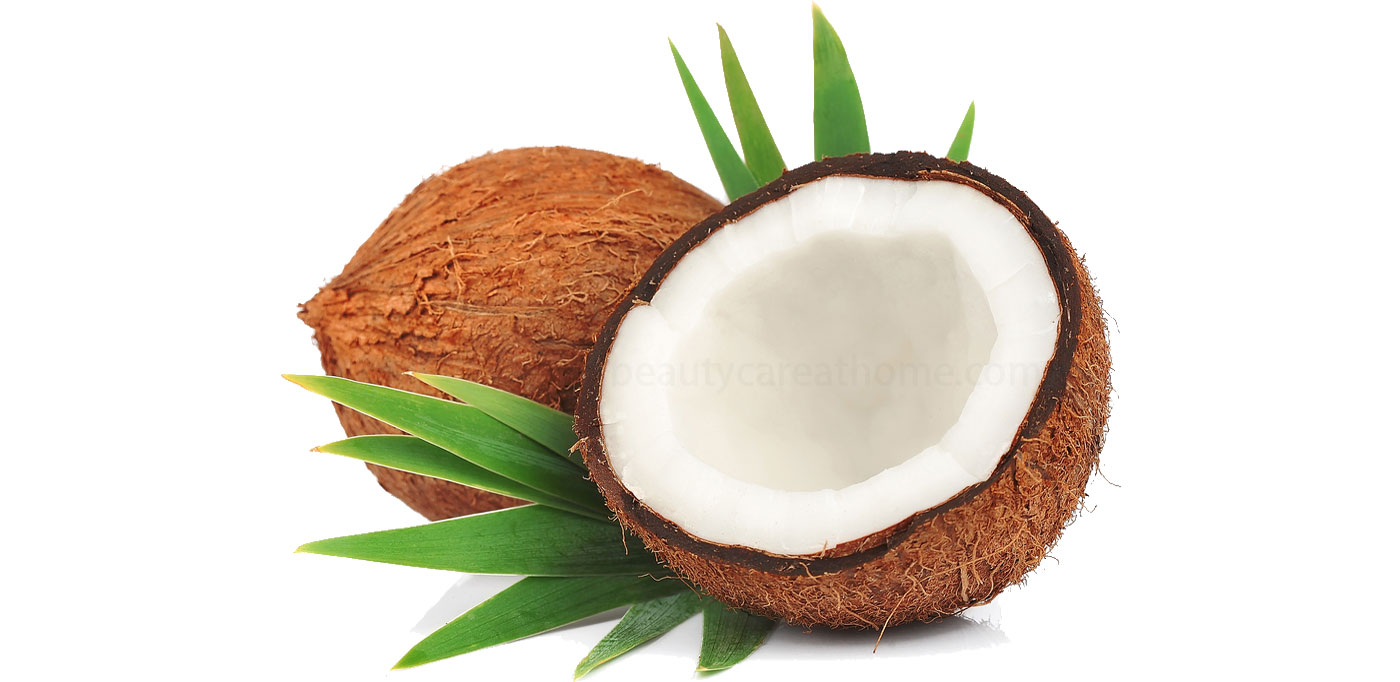 Exfoliating virtues in pulp and bark
Coconut is the basis of choice for exfoliating treatments. For a gentle exfoliation for the face, the pulp (the white part) is dried and crushed. For a special scrub body more energetic, it is the brown bark, harder, which is pulverized
and transformed, to integrate it into an exfoliating care. By adding coconut oil, a nourishing scrub is obtained for the skin. >> Taking Care of Your Skin
Beauty organic: 4 organic recipes special care of your face
Taking care of your face with natural recipes easy to make and economical is easy. Follow the guide…
A protective cream
Beauty organic: a lotion with rose water
A face mask with clay
Beauty organic: a make-up remover
A protective cream
A good facial cream is a cream that protects your skin from external aggression. With an ointment based on beeswax and olive oil, you easily compose a perfect care for your skin.
The recipe: in a glass opaque container, melt in a bain-marie, 5 grams of untreated beeswax and 5 tablespoons of organic olive oil.
Did you know: you can add to the simple preparation of essential oils, a sweet almond oil and even a floral water.
Beauty organic: a lotion with rose water
To make home a facial lotion, just make an infusion.
The recipe: simmer ¼ liter of water. Pour it into a glass jar with a handful of untreated rose petals. Let infuse for 15 minutes and filter the liquid.
This infusion can be done with plenty of other flowers, lavender, lemon balm, mint, organic citrus zests. Perfect for all skin types and even for babies.
The little extra: these lotions can be used in summer as a fogger: just let them cool in the refrigerator.
A face mask with clay
This mask is manufactured at each use and it is recommended to make one every week. Mix ½ tablespoon of white clay powder and a little water. Let stand 10 minutes until dough forms. Apply to the face and allow drying for 5 minutes. Rinse with cold water.
The white surfine clay is bought in organic shops and is worth about 15 euros per kilo.
Beauty organic: a calendula make-up remover
The calendula is an easy plant to grow or grow in its garden. Through it, you can compose a healthy and economical home makeup remover.
The recipe: Mix the calendula petals (fresh or dry) in a glass with an organic vegetable oil. Let stand 2 weeks and filter. To keep your preparation as well as possible, store it in an opaque container protected from light.
Talk time : a few months.
Did you know: it is possible to remove make-up simply with vegetable oil, olive oil for example!
What are the advantages of being beautiful in nature?
When one wants to be beautiful in nature, one often pays attention to the composition of his makeup. Traditional cosmetics tend to contain many chemicals that can be harmful to the skin as well as to the environment. This is particularly the case for elements such as: Paraben; Mineral oils; Collagen; Sodium lauryl sulfate (SLS); and many other products derived from the petrochemical industry. These can cause skin irritation, obstruction of the pores of the epidermis, itching and other troublesome side effects. In addition, they are often obtained through methods that are harmful to the environment. To address this problem, one may want to be beautiful in nature using organic cosmetics. These make the skin soft by having the advantage of using only ingredients of natural origin, without chemicals and resulting from a certified production respectful of the environment.
Beautiful in nature: how to pay attention to allergies?
It is not because cosmetics are derived from natural products that this necessarily eliminates the risk of allergic reaction. The body may well not support certain ingredients present in nature and which make up a large part of organic cosmetics. When buying a new organic cosmetic product to be beautiful in nature, it is better to test it on a small part of the skin before applying it. This will detect whether the body is allergic to any of the substances present in the product. In any case, it is better to follow the advice of a dermatologist to have beautiful skin and be beautiful in nature.