Are you faced with difficulties while removing your eye make up after a long day or a fancy party and want to retire to bed quickly? Do you want a method that will not cause pain or any irritation to your eyes? Here I have the best eye makeup removers for you that will keep you relaxed all times. You will enjoy the enhanced beautification to look gleaming on that important occasion without the stress of expected pain or struggles in removing it later when the function is over. A remover that cleanses you without leaving marks or plucking off your trimmed eye lashes. With these removers, you get simple and convenient services that will make you a lifetime customer of the products. The ideal tools to keep you self-confident and happy at all times. You will have access to the best makeup remover even for sensitive skin.
Best Eye Makeup Remover for Sensitive Eyes
How to Choose The Best Eye Makeup Removers for Sensitive Eyes
You obviously need a quality product that will give you the optimum desired services and this calls for good information on what to go for in the market. With enhanced comfort required for dry eyes, sensitive skin, and mature skin, you need the best quality eye makeup remover. Consider the following when buying one.
It should be Ammonium free; this ammonium hydroxide is used as a denaturant and has also been used as a skin pH. adjuster. The major disadvantage of this chemical is that it irritates the skin. It also evaporates to produce a foul-smelling and suffocating gas that can be poisonous. Check the ingredients of your makeup remover to avoid such a mixture.
Alcohol-free; You need to check out the ingredients for any alcohol related product. They include; Alcohol Den at, Ethanol, Benzyl Alcohol, Methanol, Isopropyl Alcohol, Ethyl Alcohol, and SD Alcohol. Alcohol is known to swallow the barriers that protect your skin and will therefore leave your skin dry and full of soreness. Bad alcohol is a solvent that will thin the thickened formula of your skin and take active ingredients deep inside the skin. This will tighten your skin and cause the skin pores to constrict.
Fragrance; ensure that you do not go for an eye makeup remover that produces too much fragrance. You obviously do not wish to walk around smelling chemicals. Some people are allergic to the smell of eye makeup removers and they can therefore only use a fragrance-free product. Go for it as it will give you a comfortable sleep that will not have your breathing choked.
Allergies; so many people are allergic to eye makeup removers. The use of any untrusted products will cause adverse skin reactions as these products contain many potential allergens. You should opt for hypoallergic best makeup removers for eyes to stay comfortable and at peace.
State; It may require you to choose between a solid makeup remover for eyes that is in the form of soap or a liquid one in the form of a detergent. The solid one will require you to use water and some cloth to use it on your face. This might inconvenience you especially where the latter are inaccessible. A liquid remover is very flexible since it mostly does not need water to use it. You will therefore use it anywhere with easy reach from your makeup handbag.
Time; most eye makeup removers have their stipulated time on how long it takes to complete their jobs. You of course do not wish to stay for an hour or so to have your makeup cleared. Choose the fast applicable products that will not harm your skin.
Best Eye Makeup Removers for Sensitive Eyes Reviews
Table of Contents
Best Eye Makeup Remover for Sensitive Eyes
How to Choose The Best Eye Makeup Removers for Sensitive Eyes
Best Eye Makeup Removers for Sensitive Eyes Reviews
  1.

Neutrogena Oil-Free Liquid Eye Makeup Remover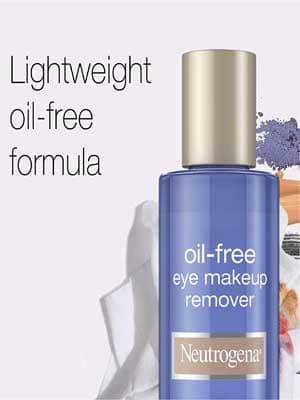 The best natural eye makeup remover that will not cause pulling or tugging. It is in the form of a lightweight oil-free liquid that makes your makeup bag easy to carry around. With a blue color, it carries an aesthetic look that is ever-appealing and opens with a smile. It does its work gently without irritating the skin and is alcohol-free. Your skin will therefore not dry but will remain hydrated and cool. Enjoy this non-selling product that will make you a regular visitor to the store for a new purchase. All you need to use it is you shake well and apply it with a cotton pad while closing your eyelids. Gently rinse with water to achieve your desired results.
Non-greasy
This product contains no grease products as it is oil-free. It therefore does not leave oil residues on your skin that can block sweat pores. It will allow your skin to keep cool due to evaporation as no hindering layer is left on your skin. A gentle and cool touch on your skin is obtained with this oil-free product.
Natural
This is a product made from natural agricultural materials. It is made of soothing aloe and cucumber extracts for its refreshing feel. This is the best natural eye makeup remover that does not carry the risk of having irritating and choking ammonia in it. Being made of natural products, it is also free from bad alcohol that can dry your skin.
Dual-phase
This is a dual-phase liquid makeup remover that is not drug-based. It works for both lightly placed makeup and stubborn types of eye makeup. It is good for mascara, eyeliner, or eye shadow which are otherwise difficult to remove with some other products.
Pros:
Both alcohol and ammonium-free
Hypoallergic
Ophthalmologically tested and safe for contact lenses
 Non-irritable
Gentle for sensitive face
Cons:
Needs additional wipes and warm water.
Final verdict
Even with the disadvantage of having to use it with warm water and wipes, the pros of this product totally outweigh it. The Neutrogena liquid eye makeup is soothing on your skin and gives the most comfortable feel after using it. It does perfect work and should be your choice for the best natural eye makeup remover.
Check Out Also:
Best Makeup Remover Towelettes for Acne Prone Skin in 2021
  2.

Mary Kay Oil-Free Eye Makeup Remover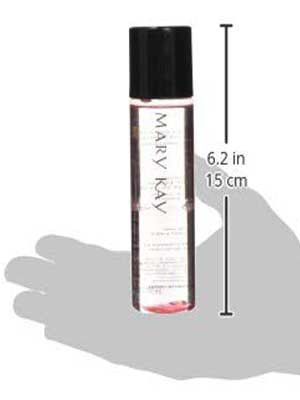 A cheap eye makeup remover that is healthy and non-allergic. Easy to put and carry round in your makeup bag as it is slender and small and will fit in many small bags. The Mary Kay is oil-free and will eliminate all residue that could persist on your skin. A gentle feel on your skin and opens with a smile with its aesthetic finish that is appealing. Avoid skin irritation by choosing this product and have comfortable breathing as it does not produce any fragrance or odor.
Clinically tested
This product has been passed through various tests before being released into the market. It has been proven harmless to your skin health and will therefore offer you pure benefits. No skin irritation will be caused by this product and your skin will remain hydrated and will harbor no sores. It will also not affect those who use contact lenses.
Fragrance-free
It does not have the so-called pleasant smell. This smell might be allergic to some people and is the ideal product for such persons. It enhances comfortable breathing as there will be no scents to choke it. It also makes the environment serene and peaceful without being contaminated with other smells. With it, you can enjoy the cool evening breeze and have a comfortable fresh air.
Non-comedogenic
It is oil-free and will not leave any layers on your skin. This will allow your skin to remain cool and evaporation will help enjoy the breeze. It does not block the pores of your skin and this will enhance comfortable sweating and fluid excretion. It is a great eye makeup remover that leaves comfortable and without any other side effects.
Pros:
Good with sensitive skin.
Great eye care.
Compatible with contact lenses.
No strong scents.
No skin irritation.
 Cons:
Not made from natural products.
Final verdict
This product has the most fulfilling features you can expect from an eye makeup cleaner. Though it is not made from natural products, it is thoroughly and clinically tested to ensure that it causes no harmful effects to the consumers. It is gentle on the skin and will leave it cool. Mary Kay is a product that does not leave you with more tasks to do as your skin is left free from contamination. The best eye makeup removers for waterproof mascara with ease. Have it and enjoy its services.
 3.

Neutrogena Hydrating Eye Makeup Remover Lotion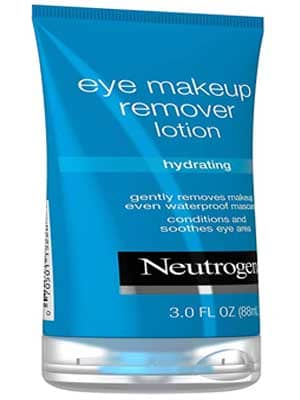 A superior Neutrogena product that comes in the form of a lotion. Well known for its natural ingredients, it comes with natural skin-curing capabilities and leaves your skin healthier than before. The aloe and cucumber mix is a safe ingredient that is non-allergic and does not irritate your skin. It leaves no oil layers on your skin and thus allows cool skin. You do not have to worry about constricted skin pores as this product does not cause any and it will not block the pores.
Fragrance-free
It does not produce any scents or bad smells. This makes your breathing comfortable and free from choking. Lack of fragrance will ensure that you do not get allergic reactions to scents and this makes it the best choice for asthmatic persons. It ensures you a serene environment where you relax and enjoy fresh air without any contaminating smells.
Lightweight
Neutrogena lotion is light in weight and it removes gently from your skin. It will not pluck off your eyelashes or eyebrows and this keeps your eyes in perfect condition. There is no tugging and pulling and thus no harm will come to your skin. Every operation will remain painless and cool without any unnecessary discomfort.
Non-water
This best eye makeup remover for sensitive skin does not require you to use warm water or cotton pads in its application. It is simply made to be used by dispensing the lotion onto your fingertips. You then gently massage over closed eyes. This enables you to use it anywhere and at any period of time since it will not need extra procedures. A portable eye makeup remover that is convenient and compatible with any situation. Does not have to be used at home only but it is easy to use it in public with this simple method of application.
Pros:
Made from natural products
Oil-free
Ammonium-free
Alcohol-free
Lightweight
No fragrance produced
Easy to use
Cons:
Takes a bit of time to clean effectively
Final verdict
For your dry skin, Nitrogen is the best natural eye makeup cleaner to use. It is made of natural products and issues of skin irritation and allergies will not come your way. The product is tested and is the most trusted eye makeup cleaner due to its excellent services. Though with the negativity of taking a little more time, this product has numerous advantages that should never be overlooked.
 4.

Maybelline New York Expert Eyes Oil-free Eye Makeup Remover
A product that will land in your makeup bag in doubles. Made with natural minerals such as potassium, expect healthy skin from its application and a strain-free use to remove your eye makeup. Modified with a combined collection of minerals such as potassium, phosphorous, and urea, this product is definitely healthy for your skin and it will nourish and keep it hydrated. Clinically tested to ensure that it has limited side effects, it is an ideal eye makeup remover for all types of persons. Allergic and non-allergic.
Non-fragrance
This product is the best drugstore eye makeup remover that does not produce any bad smell nor does it emit a sweet scent. It does not contain any ammonia-related compounds and will not give a breath-chocking smell. There are no bad alcohol chemicals in the Maybelline and this leaves your skin safe from drying or developing sores.
Oil-free
The Maybelline is one of the best eye makeup removers for mature skin as it will not leave greasy stains on your skin. It is made of ingredients that dissolve in water and they will absorb the makeup while keeping the skin hydrated. This will not block the sweat pores nor will it constrict the skin ducts. There will be no coating on your skin to prevent evaporation and keep your skin hot. This will allow you to enjoy the breeze after using this Maybelline eye makeup remover product.
Non-Alcohol
This is a great product that does not use bad alcohol to enhance its eye makeup-removing tasks. It is made of water and mineral compounds that dissolve in water such as potassium, urea, and phosphorous. It will keep your skin soft and hydrated. Bad alcohol products make your skin dry. They are also known to create sores on the skin. With this best eye makeup remover for sensitive skin, all these are no threats and your work will be simple and healthy.
Pros:
No ammonia
Hypoallergic
Non-oil
Easy to use
No bad Alcohol
Cons:
Final verdict
This product is a wonderful eye makeup remover that leaves your skin cool. It is gentle to apply on your skin and despite being slow to complete the task, it carries the cheapest procedure to apply. It washes away both mascara and eye makeup and this makes it the best multipurpose remover for you. It will clear away all marks and leave your skin free and soft. Consider having this product in your makeup bag and stay free from eyelashes pulled out.
Frequently Asked Questions:
Q. How do you remove eye makeup with sensitive eyes?
The eyelid skin is obviously one of the most delicate parts of the skin. Subjecting it to constant pulling and tugging will lead to skin laxity, wrinkles, irritation, and loss of eyelashes. You need a gently clean remover that requires less manual scrubbing. All you need is to choose a makeup remover that uses dirt attraction techniques. You then douse a cotton pad with the eye makeup remover and swipe gently over the eye. Your makeup will then be cleaned softly.
Q. Is Eye Makeup Remover bad for your eyes?
The eye is the most delicate part of the skin since it is the thinnest. Trying to remove your makeup by scrapping will cause broken blood vessels and micro tears. This may even lead to infections. You therefore need to be careful and not all makeup removers are good for your eyes. Go for the gentle makeup remover that will require you to just swipe a doused cotton pad on the eye skin. This will be gentle on your eyes and will make you your best friend.
Q. How can I remove eye makeup without irritating eyes?
There are methods of removing makeup that when used on the eye skin, will cause a lot of irritation and bring the risk of infections. To avoid these, you need to make it quick and painless in the following way. Make sure you have a cotton pad. Use a dual-phased eye makeup remover containing both water and some oil. Have your cotton pad doused in the makeup remover lotion or liquid and then gently swipe over the eyelids. It will soak and rub off all the makeup away. There will be no irritation or pain in the process.
Conclusion:
Removing makeup is considered a hefty and boring task and not as enjoyable as while applying makeup. It comes with many issues such as irritation and allergies. It may also pull off your eyelashes but with these quality remover products, life is now easier. The best eye makeup removers explained above will give you quality services that will make your makeup removal more enjoyable than when applying it. They have comfortable ingredients that will make you beautiful and a regular customer of the products. Add a few collections to your makeup bag and live happily.